July 1994.
Crowley High School first-year volunteer assistant Joey McGuire arrives at his first Texas High School Coaches Association (THSCA) Convention in nearby Fort Worth and is met with a daunting registration process that could have led him to walk right back out the door he just walked through.
But as an alum of Crowley and as someone who knew where he belonged from the start, this tedious first task felt necessary for a future that would have been tough for anyone to envision at the time.
STEP ONE: LEARN IT
"I didn't register, so I had to wait in a long line," McGuire said, this time with a little more laughter attached to the story. "I didn't know what I was walking into. I was volunteering at Crowley working through an alternative certification. I didn't even really know what coaching school was. I hadn't preregistered so I went and stood in the line for a few hours. I'll never forget standing in that line just being overwhelmed. There were probably 10,000 there and it just continues to grow."
Fast forward to July 2022, and McGuire is back at the THSCA convention once again as a first-year coach, but this time as the head man at Texas Tech. His first day at the convention — which this time around is being held in San Antonio — consists of McGuire having to embrace his celebrity status that he has built in the 28 years since his arrival on the Texas coaching scene. Along with shaking just about every hand in the entire convention center, McGuire is also taking down phone numbers and learning about everyone who wants to learn about him.
"I see a lot of my good friends here, guys that I've vacationed with and played against on Friday nights," McGuire said at the FBS coaches panel in front of the convention's 15,000-plus coaches in attendance. "I just appreciate y'all so much. I've said it a hundred times that I'm a high school coach that gets to coach college football, and I mean that."
McGuire's experience at the convention allows him to feel the root of where his career began when he first walked through those glass doors in 1994, and he sees the convention today as an opportunity to help future Joey McGuires succeed while also reconnecting with lifelong friends.
"It's pretty humbling," he said. "Just because I know what those guys do every day and how those guys put so much time in. They've been so good to me. As soon as I got into college, everyone reached out and everyone has helped along the way. When you have that kind of response, it keeps you grounded to who you are and where you came from. It keeps you extremely humble."
One of those lifelong friends is former Gilmer High School coaching legend and current UTSA head coach Jeff Traylor, who inspired McGuire's wardrobe choice on the convention's first day.
"I'm not someone who wears a sport coat, but I looked at it in the closet this morning and knew Jeff would have one on," McGuire said with a smoothly ironed gray sport coat covering his usual dress shirt look. "So here we are."
Traylor and McGuire share a special connection in that they are two former Texas high school coaching legends who are now leading FBS programs. For McGuire, he sees it as an opportunity to re-open that pathway for coaches across the state.
"Jeff Traylor would say the same thing: We both know that we're carrying that THSCA flag right now for everybody," he said. "There are so many good coaches. (Baylor QB coach) Shawn Bell could be a head coach right now, he is really good and there are so many of those high school coaches that if they wanted to make the move, they're ready to be coaches. There are guys in other spots that could be position coaches. You take Chris Gilbert (director of high school relations) at Texas, he's ready to be a position coach, there's no doubt. I just think that the quality and the importance of Texas high school football really lends to the position that I'm in, Jeff is in and some other guys."
*****
STEP TWO: LIVE IT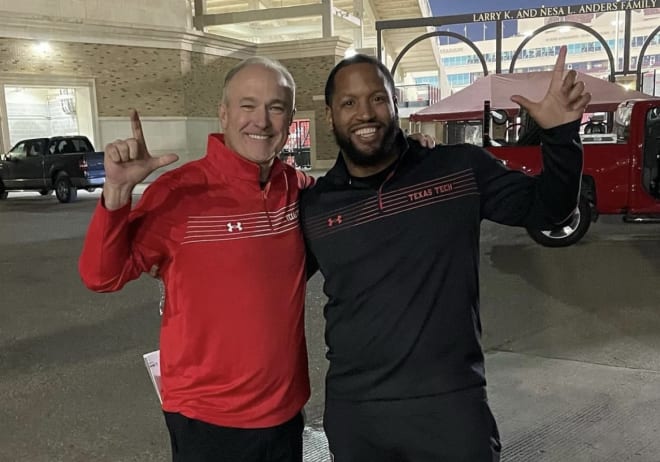 It was an easy decision for James Blanchard, Texas Tech's Director of Player Personnel, to follow McGuire to Lubbock when he was hired last fall.
"It's huge," Blanchard said about the importance of the ground-level relationships with high school coaches. "With Joey being a Texas high school coaching legend, this is like Christmas for him. I couldn't imagine not being here to build these relationships. They're critical. Recruiting is the lifeline of any program, and you can't recruit at a high level if you don't have great relationships with the coaches."
Early in his tenure in Lubbock, McGuire has put a lot of trust into his coaching staff and his scouting department to take charge in recruiting the fertile ground that is Texas.
"Our scouting department is different," Blanchard said. "In other scouting departments, they'll scout a kid, send him to the position coach, the position coach has to OK it to go to the coordinator and then he has to OK it for the head coach. Then the head coach decides if he wants to listen to all of those guys and offer the kid. With coach McGuire, he trusts all of us unequivocally. If we go to him and say this kid is an offer, he has the measurables, the length, he has this and that — he trusts us to offer the kid. That's why you'll see Texas Tech be the first to offer so many guys, it's because our process is so much quicker. It's scouting department-led."
As a result, the Red Raiders have offered over 160 prospects in the 2023 class and have reeled in a state-high 25 commits so far in the cycle, which has McGuire on pace to secure Texas Tech's highest-ranked recruiting class in program history in just his first year.
"We have a guy committed to us from Orange, Texas — the last city before you get to Louisiana — and then we have a guy committed from El Paso — the last city before getting to New Mexico," Blanchard said. "We literally have the whole stretch. It just worked out like that. We'll always turn over every rock. Some guys just want to stick to metropolitan areas, we want to look everywhere. A lot of people are scared to stamp guys. In a lot of scouting departments, they'll ask where he has offers from. We don't care who he has offers from. If we see the skill set and the athletic traits, we'll do it. We'll be the pioneers."
Blanchard's philosophy mirrors that of McGuire, as he wants to find the most athletic multisport prospects across the state and country to bring to Lubbock.
"We're looking for guys that play basketball, that run track," McGuire said as he addressed the coaches at the convention. "Get your kids playing multiple sports and get them doing everything they can so we can truly evaluate them athletically. Right now, we have a kid that I saw dunk ten times in a game. He's at a really small school, too. We don't care what level they're playing at, we want to know how athletic they are."
That message means a lot more to the state when it comes from one of their own in McGuire, and the respect was seen throughout the week from the high school and college ranks.
"Joey is a real legend in Texas," Blanchard said. "If Texas high school coaches were kids, they would have pictures of Joey on the wall. He's the people's champ."
*****
STEP THREE: DEFEND IT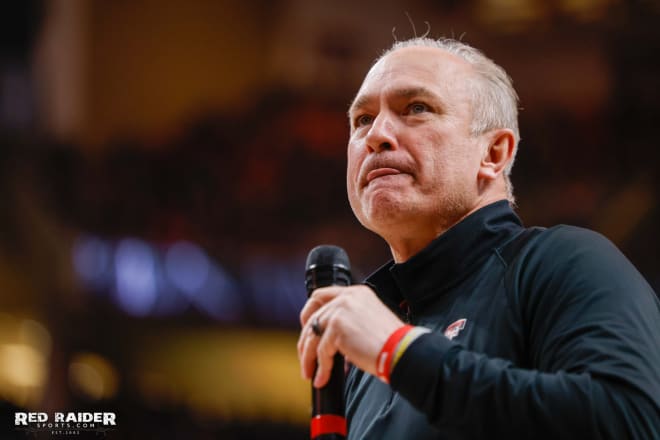 On the final day of the 2022 convention, McGuire makes his way through a mob of supporters from around the state, as he takes the time to learn about each assistant, volunteer coach and every pure Texas Tech fan while also sprinkling in his valuable advice.
As he gets toward the end of the crowd, one gentleman catches McGuire's attention immediately.
Former Stephenville High School head coach Mike Copeland, who took over for Art Briles when he left for Texas Tech in 1999, was someone that McGuire looked up to in the coaching world ahead of his own arrival at his first high school head coaching job at Cedar Hill in 2003.
"From 2003 to 2007, I made a trip every summer and spent the day with him in a middle school coaches' office," McGuire said. "I absorbed everything I could from X's and O's to how you treat people in this coaching world. I still remember him saying that if you get new gear for your varsity coaches, you get gear for your freshman and middle school coaches, too. If you treat them that way, they'll work that much harder for you. He's always someone that's had my back along the way."
Moments like those throughout the week remind McGuire of where he came from, but they also remind him of what is on the table to achieve. He knows it will take time, but he has built a strong belief within the program that the Red Raiders will be a force in the Big 12 in the coming years.
"We want to win," McGuire said bluntly. "I know that every coach does, so we're working every single day. We talk a lot about being the best versions of ourselves. I want to win right now, but I'm also not gonna cheat the process. We're gonna put ourselves in really good positions every week to be competitive and to win, but I'm also not gonna take shortcuts to get there. We're going to build this thing to where there is something really special in West Texas. We just have to keep at it."
Fortunately for McGuire, he has the blueprint in hand from a very notable mentor of his, Carolina Panthers head coach Matt Rhule.
"My mentor says that the team has to learn it, they have to live it, and then they have to defend it," he said. "That takes usually three years. It's my job to see how I can speed that process up without cheating the process."